Introduction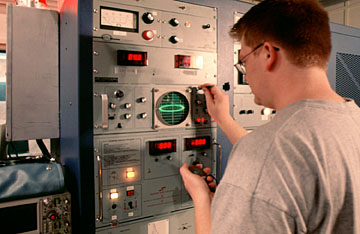 The Energy Systems Integration (ESI) at the University at Buffalo (UB) is a unique research facility. In terms of the world-renowned expertise of its director, the wealth of graduate and undergraduate research talent available, and breadth of instrumentation assembled in the ESI's laboratories, ESI has the capability to perform research in both the public and private sectors; both industry and government. UB is the largest unit on the largest public higher educational institution in the country, with a student body of over 27,000, over 6,100 faculty members, and 300 degree programs.
One research focus of ESI is the development of mechanisms to predict failure in electronic systems. ESI works with other basic research institutions, with Original Equipment Manufacturers that make custom electronics designed to customer's specifications, and with government laboratories and departments in which failure has a very high cost. For example, if a component of a land vehicle on Mars breaksdown the entire NASA mission could be forfeited. Similarly, defense weapons must function in order to protect the military personnel and the citizenry. Aircraft control systems must function properly when the lives of hundreds of thousands of people are depending on them. These are complicated problems, not recommended for the well-known "quick fix." In order to develop highly integrated and seamless solutions, ESI often becomes involved early in the development process. How soon will an insulation material in or around a substrate to be used in electronics break down? How do we predict or determine the kind or nature of the breakdown? Certain variables tend to cause breakdowns. Has a bad batch of material been used? Has the material been damaged in shipping? At what voltage will the material break down? How does aging affect the material?
ESI's strategy has been to test and develop systems diagnostics, stage by stage. We take materials developed by corporations, test them for electrical stress— not mechanical stress— and deliver the results. Such materials go not only into defense systems like tanks or weapons, but also have ramifications to your Walkman, personal TV or stereo as well. We have the ability to test armaments for the Army, navigational systems for surface ships and submarines for the Navy, satellites for NASA. With the current technological emphasis on electronics size reduction, i.e., more power, high frequency, small size, for missiles and radar on aircraft, ESI has the facilities, staff, knowledge, and interest in working with the military/industrial complex to make the electronics components of a broad spectrum of systems fail-safe for the public at large.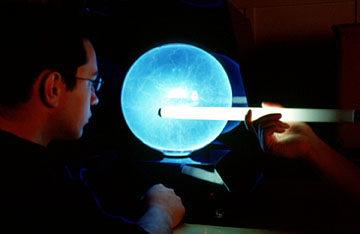 ESI is federally and industrially funded at UB, concerned primarily with the study of electrical devices and materials under AC, DC, single pulse, and repeated voltage/current/pressure/thermal stress loading. Research at ESI focuses on insulation, multifactor stress aging and theories, and pulsed power electronics. ESI's goal is to develop and pursue graduate and undergraduate programs in the field of electrical power and power conditioning to expand scientific knowledge in these and related areas. Projects underway include development, with appropriate industrial participation, of high energy density elements of power conditioning systems.
Facilities have been developed, and continue to be enhanced, that contain pulse, impulse, and ac generation systems, as well as instrumentation for dielectric measurements, electrical and thermal prestressing, and liquid impregnation of dielectric materials. ESI forms a comprehensive research and diagnostic facility that is especially suited to producing a better understanding of the physical processes that govern the electrical and mechanical characteristics of power conditioning elements and systems. Research is undertaken at the Doctoral, Master of Science, Master of Engineering, and Undergraduate levels.